New pilot boats for Halifax and Saint John are one step closer to reality. On February 7th 2011, a contract was signed between the Atlantic Pilotage Authority and ABCO Industries of Lunenburg, NS to build the two new boats.
The boats were designed by Naval Architect Rory MacDonald of Lengkeek Vessel Engineering. The design was based on criteria established by a joint design team consisting of APA pilots, launch crews, Board Members, and Management. These 17 metre aluminum vessels will be sister ships that will operate at a service speed of 18 knots. The boats will be built to Lloyd's classification, and Mr. MacDonald will be Project Manager on behalf of APA.
ABCO was selected after a rigorous process that attracted interest from shipyards in Ontario, Quebec, and the Maritimes. ABCO Industries is a diversified company that has been in business for more than 60 years. As well as shipbuilding, the company is involved in the manufacture of food machinery, environmental equipment, industrial equipment, and industrial fabrication.
Captain Anthony McGuinness, Chief Executive Officer of the Authority, stated "I am extremely pleased that we have been able to sign this contract and I look forward to seeing our two new pilot boats become a reality over the next 18 months."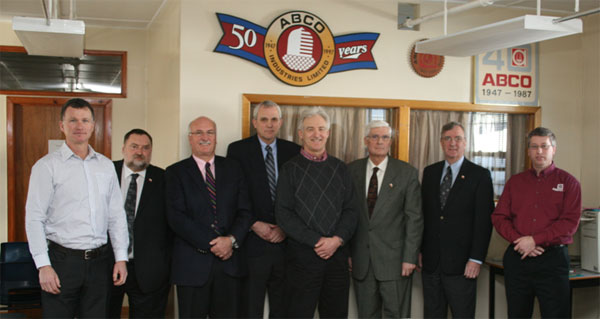 From left to right: Rory MacDonald, Project Manager, LVE; Peter MacArthur, Chief Financial Officer, APA; Anthony McGuinness, Chief Executive Officer, APA; David Fox, Director of Operations, APA; John Meisner, President, ABCO; Tom Calkin, Chair, APA, Jim Stoneman, Director, APA; Scott Robertson, Project Manager, ABCO
Pilotage & Other Charges
The Pilotage Act requires that pilotage tariffs be fixed at a level that permits the Authority to operate on a self-sustaining financial basis, and that the tariffs set be fair and reasonable. The goal is to have each area become financially self-sufficient to eliminate cross-subsidization among ports.