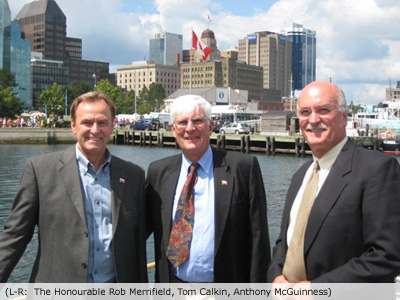 The Honourable Rob Merrifield, Minister of State for Transport, visited the head office of the Atlantic Pilotage Authority (APA) on August 11th. This familiarization tour included a discussion of the Authority's current issues, a briefing on its long-term plans, and tour of Halifax Harbour on one of the Authority's pilot boats.
"It's important for Crown Corporations to have a good working relationship with the Minister responsible, and I thank Minister Merrifield for his support and continued interest in the Authority's operations." said Tom Calkin, APA Chair.
"Having Minister Merrifield here in Halifax provided us with a wonderful opportunity to discuss certain issues, share our plans for the future and to show him first hand how our operations work. It was a beneficial visit." said Anthony McGuinness, APA Chief Executive Officer.
Pilotage & Other Charges
The Pilotage Act requires that pilotage tariffs be fixed at a level that permits the Authority to operate on a self-sustaining financial basis, and that the tariffs set be fair and reasonable. The goal is to have each area become financially self-sufficient to eliminate cross-subsidization among ports.