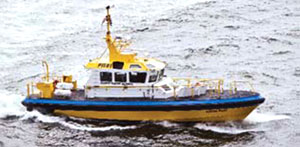 The Authority was honoured to have the "Avalon Pilot" christened on June 1, 2007, by Ms. Heather Skanes, wife of Mr. Paul Adams, President of Newfoundland Transshipment Limited (NTL). The NTL terminal is located in Placentia Bay, NL, and is specifically designed for the storage and transshipment of oil from the Hibernia and White Rose offshore oil fields.
The "Avalon Pilot" will be operational within Placentia Bay by late June, with the second vessel, "Atlantic Pilot", operational later in 2007.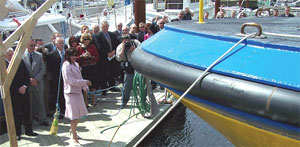 These vessels feature a hull design by Camarc Ltd of the United Kingdom, with the remaining design work completed by Lengkeek Vessel Engineering (LVE) of Dartmouth, NS. The construction is by the A.F. Theriault & Sons Ltd, a shipyard located in Meteghan River, NS. Each vessel is being built to Lloyd's Classification Standards, with the project management undertaken by LVE.
Pilotage & Other Charges
The Pilotage Act requires that pilotage tariffs be fixed at a level that permits the Authority to operate on a self-sustaining financial basis, and that the tariffs set be fair and reasonable. The goal is to have each area become financially self-sufficient to eliminate cross-subsidization among ports.